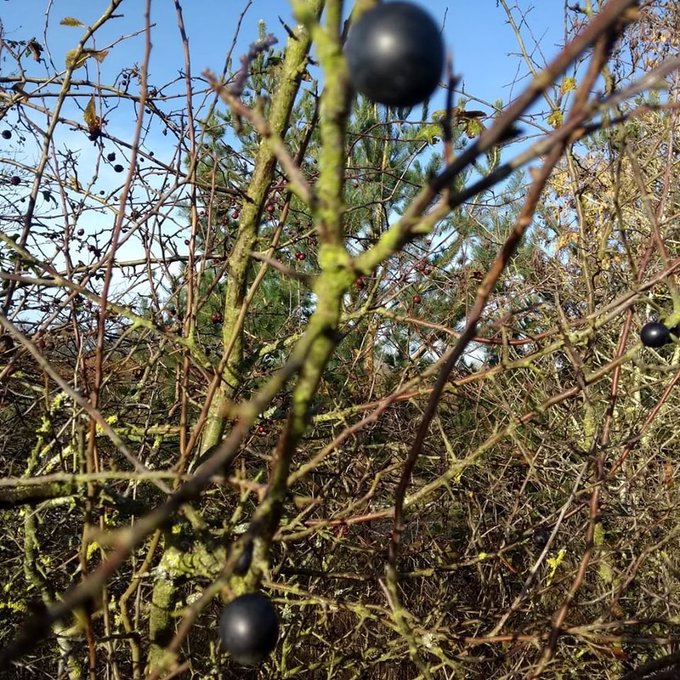 In cold November weather when the first frost strikes you wrap up in winter woolies and harvest the sloes.  You have been walking by them on your country rambles and you know where the best cropping bushes are.
Plump black fruts of the Blackthorn which pricks a fair few fingers as you pick.  Prunus spinosa, the thorny plum, the fruit is smaller than a damson, far more bitter and the most astringent thing you can think of.  A sample bite will dry out your mouth, like tanin on speed.
The frost helps sweeten the fruit slightly, but if you delay picking the creatures of the field and stream will beat you to the punch.
Back home in the warm kitchen you prick the fruits with a fork and toss them in a kilner jar.  Douse them in sugar and give them a few days for the sugar to leach the juice from the berries.  When you have a jar of fine pink coloured sugar you can top up the jar with vodka or gin and seal it.  Store in a cool, dark, dry place for as long as you can bear.
The result is sloe gin.
Sloe Gin; by Seamus Heaney
The clear weather of juniper
darkened into winter.
She fed gin to sloes
and sealed the glass container.
When I unscrewed it
I smelled the disturbed
tart stillness of a bush
rising through the pantry.
When I poured it
it had a cutting edge
and flamed
like Betelgeuse.
I drink to you
in smoke-mirled, blue-
black sloes, bitter
and dependable.