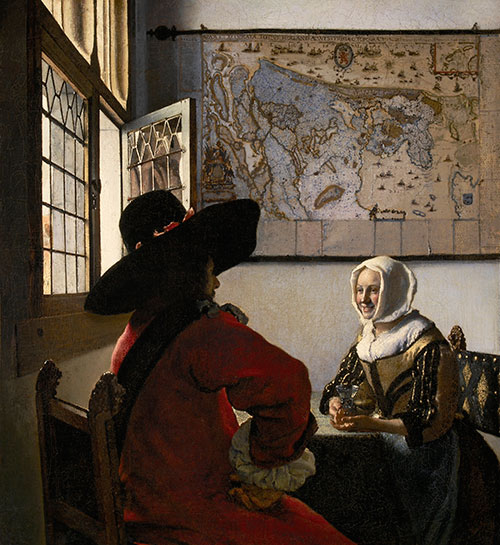 Officer and a laughing girl by Johannes Vermeer was the painting that started the controversy.  The American artist Joseph Pennell first raised the theory in 1891.  It was during the 1880's that George Eastman of New York invented a photographic process accessible to the masses.  The slogan for the Kodak camera was "you push the button, we do the rest".  Eliminating the need for glass plates, dangerous chemicals and home-brewed photographic emulsions and fixers opened the process to the world.
Pennell noticed that the paintings of Vermeer had a photographic quality.  They had the kind of proportions you saw in photographs.  The Officer is twice as large as the girl.
Now it is widely accepted, but still unproven, that Johannes Vermeer used a camera obscura, a primitive pinhole camera, to sketch out his interiors.  Many versions have been used over the years, the best probably being the camera lucida in many variants, which is still in use today.
When you compare an earlier work, with a tiled floor, like Christ Healing the Blind by El Greco (1570) you can see the foreground is almost linear.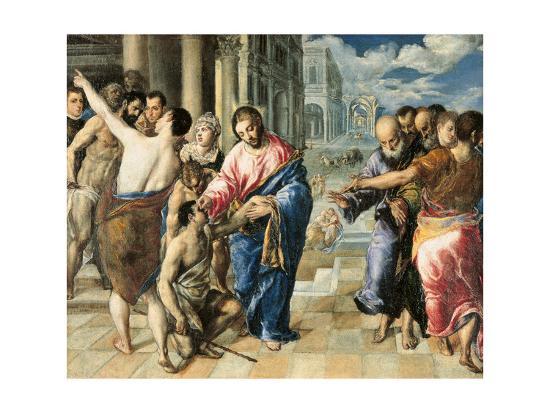 How different to the distance created by Vermeer in his interiors, such as the Lady playing a Virginal (or The music lesson).  El Greco tries to create depth by having his background recede, but the foreground is flat.
Vermeer's interior is bounded by a wall of the room, but he creates great space and depth in the foreground.  this is further enhanced by the perspective given to the room by shadows from the natural light entering the windows.
Johannes Veneer was born on this day, Oct 31st 1632.