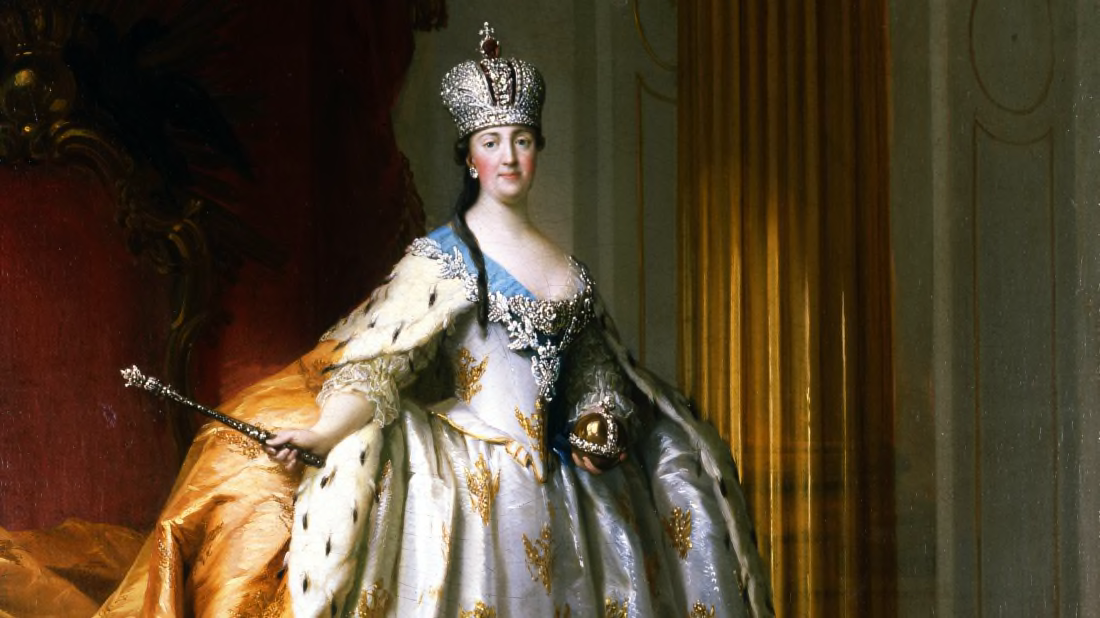 Catherine the Great, born 1729, staged a coup d'état to overthrow her husband Peter III, and ruled as empress from 1762 dying on this day, Nov 17th 1796.
In 1762 Catherine controversially brough the English Doctor Thomas Dimsdale to Russia to innoculate herself, her son and her court against smallpox.  Vaccination was in its infancy and this was a high risk endeavour on her part.  To her credit she recognised the danger the Doctor faced if the experiement failed.  The Empress arranged for a relay of fast horses to speed the Dimsdales out of the country were she to die.
The procedure succeeded and the Doctor, and his son Nathaniel, were fabulously well rewarded, gaining a Russian Barony in the process.  Dimsdle was able to return to England and leverage his funds to become a banker and an MP.
Catherine used the success of the endeavour to promote vaccination to her subjects and succeeded in rolling out 2 million vaccinations in her lifetime, 6% of the Russian Population.
Catherine brought enlighenment to Russia and her rule is considered a golden age.  The Golden Age of Russian poetry followed her rule.  Pushkin was born in 1799 just 3 years after her passing.  Zhukovsky, who introduced Romanticism to Russia,  was born in 1783 and was 13 when Catherine passed away.  I find the Russians a bit sentimental, a bit flowery and very religious, but they were of their time and of course I know them only through translations, and how good are the translations?
The Boatman; by Vasily Andreyevich Zhukovsky
Driven by misfortune's whirlwind,
having neither oar nor rudder,
by a storm my bark was driven
out upon the boundless sea.
'midst black clouds a small star sparkled;
'Don't conceal yourself!' I cried;
but it disappeared, unheeding;
and my anchor was lost, too.
All was clothed in gloomy darkness;
great swells heaved all round;
in the darkness yawned the depths
I was hemmed in by cliffs.
'There's no hope for my salvation!'
I bemoaned, with heavy spirit…
Madman! Providence
was your secret helmsman.
With a hand invisible,
'midst the roaring waves,
through the gloomy, veiled depths
past the terrifying cliffs,
my all-powerful savior guided me.
Then-all's quiet ! gloom has vanished;
I behold a paradisical realm…
Three celestial angels.
Providence – O, my protector!
My dejected groaning ceases;
on my knees, in exaltation,
on their image I did gaze.
Who could sing their charm?
or their power o'er the soul?
All around them holy innocence
and an aura divine.
A delight as yet untasted –
live and breathe for them;
take into my soul and heart
all their words and glances sweet.
O fate! I've but one desire:
let them sample every blessing;
vouchsafe them delight – me suffering;
Only let me die before they do.